Superlatives fall short. Karl Vannieuwkerke and José De Cauwer were also impressed by the tenor battle between Mathieu van der Poel and Tadej Pogacar in the Ronde. Our commentary duo is already analyzing and looking ahead: "In the next edition, Pogacar will drive even more with the knife between its teeth."
Wow, José… It seems as if a generation of drivers has been shaken up and only delivers spectacle.

José: "I don't know what they've been shaken out of, but it's great to watch. You know what the problem is? It all seems so normal. You can write down the top favorites in advance. The betting shops go bankrupt here."
The way it is done is spectacular.

José: "Certainly now. This continues to resonate, you know. A Pogacar that drives away in anger… In the next edition he will drive even more with his knife between his teeth. Then you will see something. By the way, hear us busy.. This Round has just ended and we are already speculating about the next one."
To be honest, I've never seen what Pogacar did on the Oude Kwaremont.
At first we thought we would have a sprint with two, but it ended up being one with four.

José: "What happened there? We did not see Pogacar's movement coming. You thought he would rotate with Van der Poel, but in the last 5 kilometers he tried to put something together."
"The pursuers arrived at full speed. Madouas even seemed to pass by, but Van der Poel went on at the right time. Pogacar was especially angry with himself afterwards."
As a result, there are still only two Tour winners who ever won the Ronde. And the past shows that opportunities are sometimes scarce. Even for Pogacar.

José: "We have often experienced this in the past. When Tom Boonen crowned himself world champion in 2005, Lefevere said: "Oh, if it hadn't happened now, there will be plenty of years to come." But there are no such moments more come."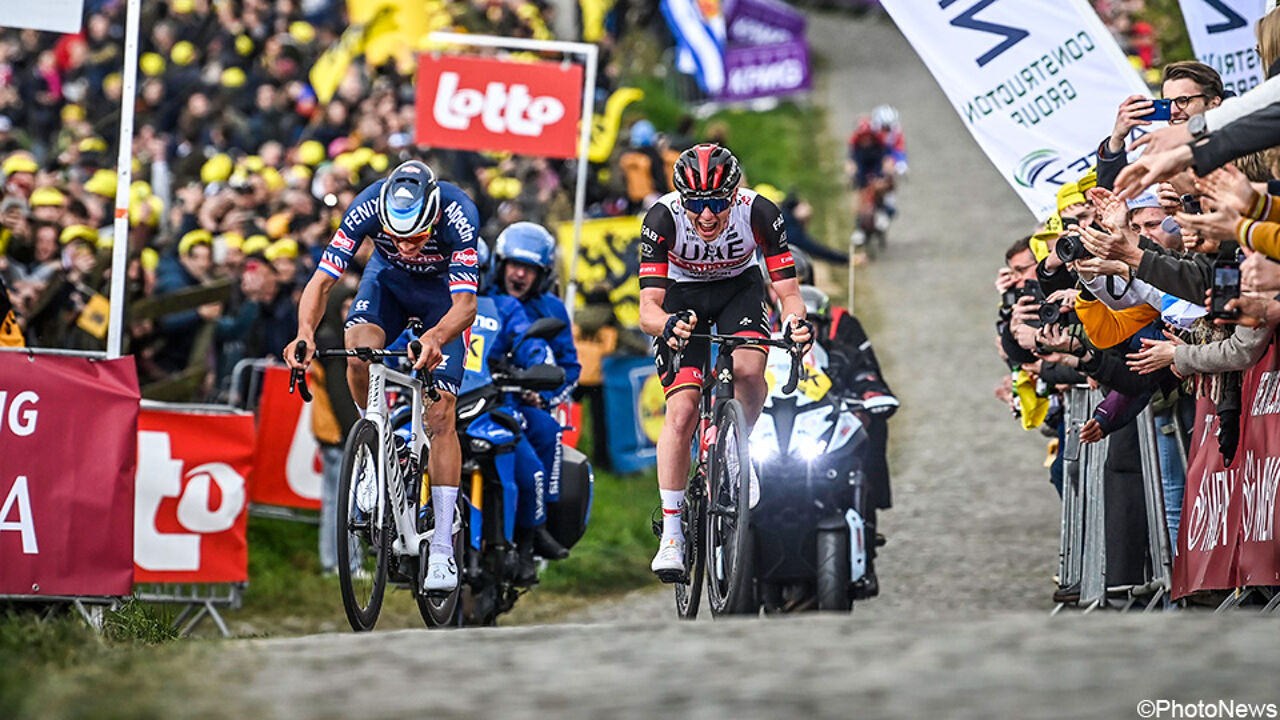 Van der Poel apparently has a ticket for opportunities. Four times in as many years, with the correct ticket twice.

José: "And that guy hasn't been a full-time road cyclist for very long, hey. Actually, this is only his first year. In the others he kept nibbling on."
By the way, it would be a shame if Belgians begrudge this Van der Poel. This performance was exceptional.

José: "You can't be against him. It's a Dutchman who lives in Belgium, with a Belgian girlfriend. (laughs) How many Dutchmen are you then? Van der Poel is great to watch. Moreover, polite and excellently educated. blessing for cycling."
The presence of Pogacar makes Van der Poel's victory much more beautiful. And she softens Van Aert's absence.
Let us mention it again: Wout van Aert was not there. Jumbo-Visma could not help determine the course without him.

José: "Ah, with what Pogacar shook out of his legs today, he might also have destroyed Jumbo-Visma. It would have taken a very good Wout to participate. I honestly did what Pogacar did on the Oude Kwaremont never seen."
Did Asgreen blow himself up trying to follow Pogacar? And so the plan of Quick Step thrown overboard?

José: "I think Patrick Lefevere has already turned off his television set. Did Asgreen pass by? Perhaps, but a rider in shape must also recover from such an effort. And Asgreen already had to pass on the Koppenberg."
Finally: how many points out of 10 for this Round?

José: "The Ronde is always 10 out of 10. In this edition, we couldn't even say in the last kilometer who would win, because you take what happened in previous years."
"The presence of Pogacar makes Van der Poel's victory much more beautiful. And it softens Van Aert's absence. A two-time Tour winner can be held here for a while. That's nice."
Listen to Karl and José's analysis as a podcast

†