National coach Roberto Martinez looked ahead today at the second Nations League match against Poland. But he really only got questions about last weekend's failure against the Netherlands. He doesn't want to jump to big conclusions just yet.
Poland was not actually mentioned in Roberto Martinez's press chat. The journalists mainly wanted to know whether he is already looking differently at the heavy defeat against the Netherlands.
"I have now been able to analyze the match without all the emotions," he began. "We have to learn from this."
The focus is mainly on the defense. They were too easily tampered with. "It's not fair to target only the defenders. In modern football you don't defend with 3, 4 or 5, but with the whole team. And our defensive work as a team was not good enough. The Netherlands had 4 attacks in the second half and we conceded three goals."
The difference in level between Vertonghen and Alderweireld and the rest of the defenders is still large.
Wasn't there too much space between the number 6 and the defence? "That is indeed part of the field where it went wrong. We defended too individually, not as a team. There was not enough communication, we did not help each other, …"
Is it time for new faces in the back? "I started here with Vermaelen, Kompany, Vertonghen and Alderweireld. Meanwhile, Vermaelen and Kompany are gone. Have we been able to replace them with players of the same level? No. Do we have talents in those positions? Yes."
"But those guys don't have that experience yet. We have a long list of players that we follow: Koni De Winter, Zeno Debast, Wout Faes, Leander Dendoncker, Sebastiaan Bornauw, Elias Cobbaut, … But those 10 years of experience in a They don't have a top team. So yes, the difference in level between Vertonghen and Alderweireld and the rest of the defenders is still big."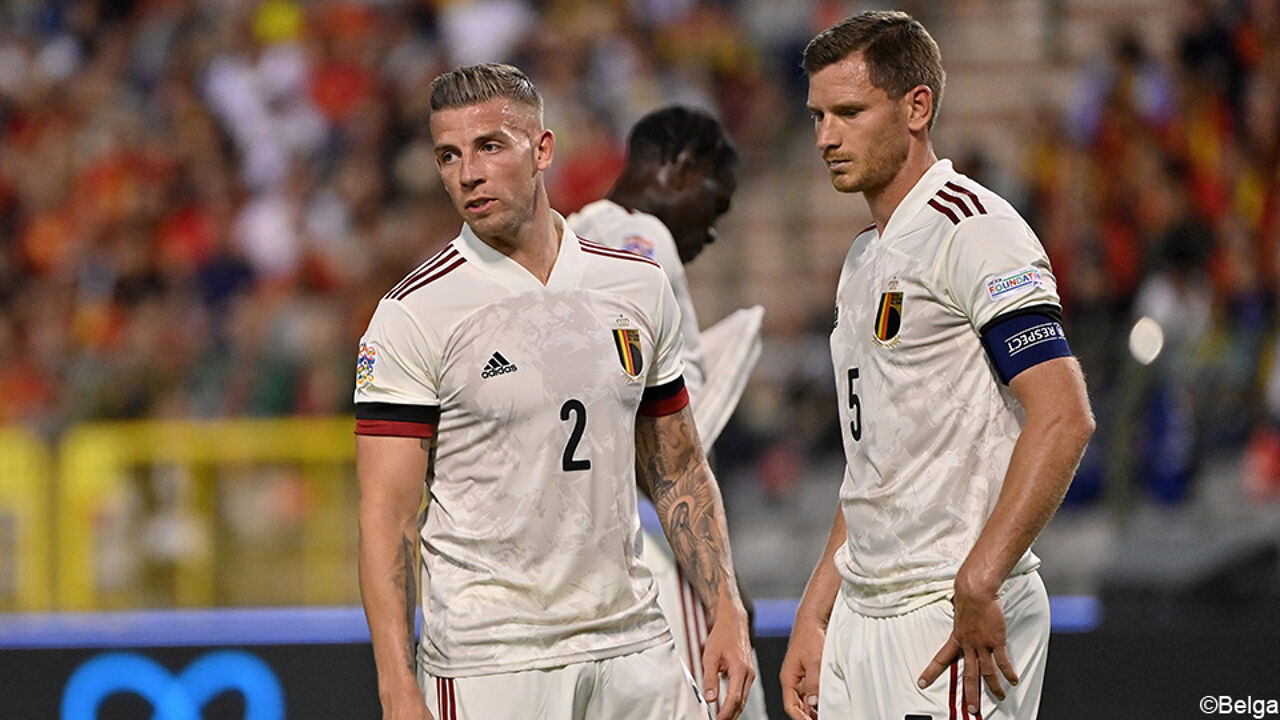 "The time until the World Cup is short, you should not expect a revolution"

We should not expect a new system right away. "We have 16 days to prepare for the World Cup, so you should not start a revolution. Then you will lose the work of 6 years. So we will not suddenly do something crazy. If you play with 4 with the same intensity as against the Netherlands, wrong too."
And so the press conference had come to tactics. "It's normal for tactics to be questioned, I don't care. You don't win or lose with tactics, but with the execution of the tactics. I take responsibility and like to talk about the tactics. Sometimes we win too with a bad tactic, but then you hear nothing."
Louis van Gaal also had something to say about the tactics of the Belgians. According to him, Belgium puts (too) little pressure on the ball. "With all due respect to Van Gaal, but he also said that Noa Lang could win the Golden Ball for Kevin De Bruyne, so yes. I don't answer to other national coaches. Do we put enough pressure? Sometimes yes, sometimes not."
Martinez went a bit short there. Van Gaal would certainly give the Golden Ball to De Bruyne, but added that he might not get the trophy as a midfielder, as it often goes to attackers. In that regard, he jokingly added that Lang had a better chance.
I don't expect people to be happy after this defeat. But I don't want questions about the attitude of the players.
Is Roberto Martinez a little frustrated by the negative atmosphere around the team right now? "No, everyone is doing their job. I don't expect people to be happy after this defeat. But I don't want questions about the attitude of the players. It's really not about that. We weren't good enough defensively, but everyone is committed. If you don't give everything, you won't come back. There's too little appreciation for that. That's unacceptable."
Finally, Martinez did not want to draw too many conclusions. "I am now focusing on the reaction against Poland. That is a new test. We play 4 matches in 11 days, then I draw conclusions."
"I will change things about the team against Poland, not because of the performance against the Netherlands, but because that was already planned."
†